Natalia Gurova & Nora Aaron Scherer
b. 1986, Belarus / b. 1993, Germany

Urticina eques reflex – pet me not come back, 2020
Silicone, metal
250 x 70 cm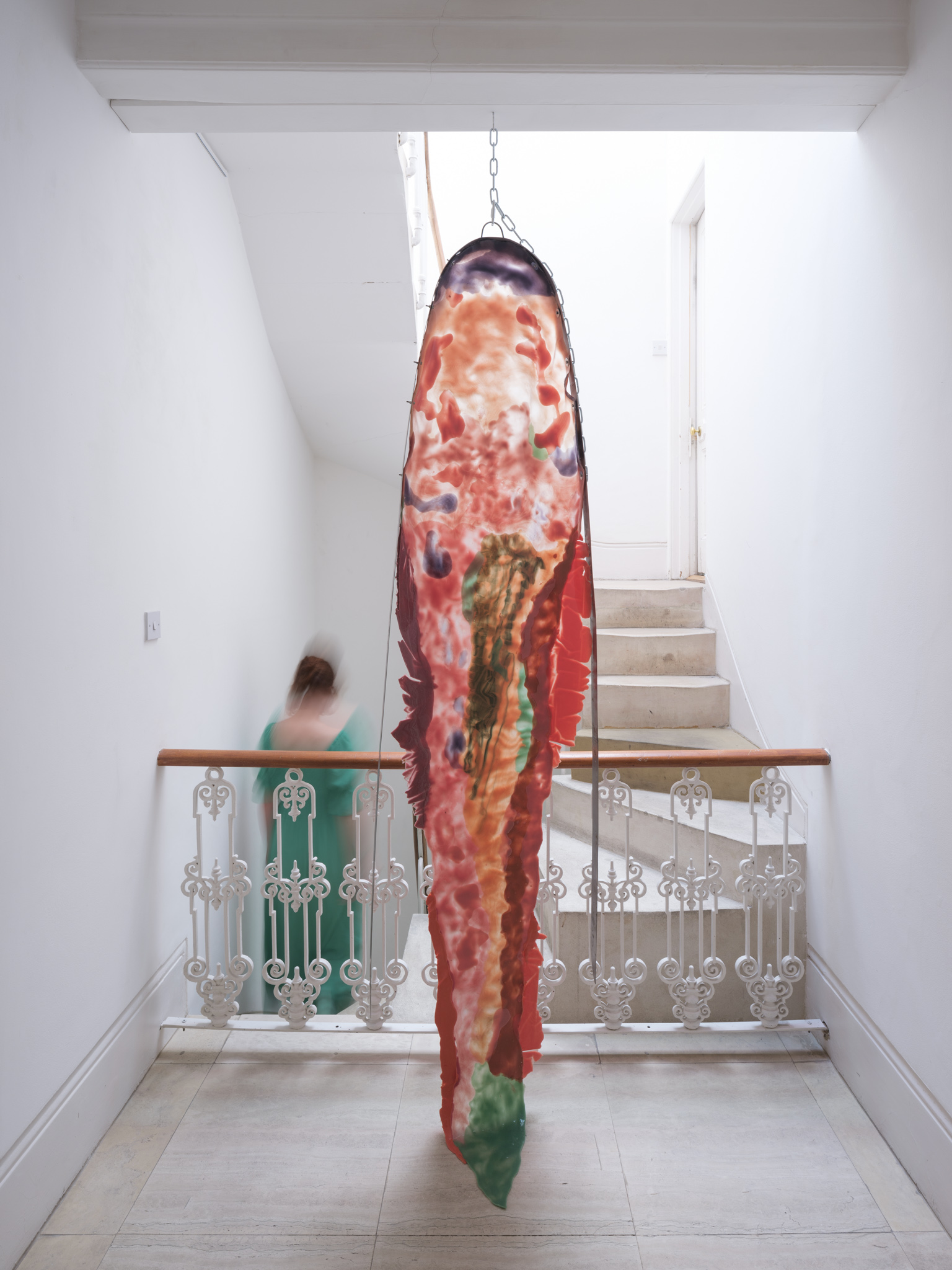 Like a hanging Petri dish, Urticina eques reflex - pet me not come back instantly attracts and repels the viewer in equal measure. A rubbery silicone skin stretched across a metal frame with bolts and rivets, and suspended by a sleek metal chain, the work's striking materiality speaks of both the fetish dungeon and the science lab. Flesh, sores, mould and contamination but also intimacy, touch and play come to mind. Silicone is often used in sex toys, but also in filmmaking to create masks that resemble human skin. Demonstrating the proximity of desire and abjection, Gurova and Scherer's sculpture creates a moment of confusion to rethink ways of safe touching.


Natalia Gurova is a visual artist, sculptor and former journalist based in Vienna. Having previously studied site-specific art at the University of Applied Arts, Gurova now studies object sculpture at the Academy of Fine Arts. Her work has been exhibited at Vienna Art Week, Parallel Art Fair, Gallery Michaela Stock, MAK, Exhibit Gallery at the Academy of Fine Arts, das weisse haus and other places.

Nora Aaron Scherer is a social worker, body worker and multidisciplinary artist with a background in drama education. Their interactive, immersive and durational performance works create situations that allow them to explore social dynamics, contemporary forms of communication and intimacy. As a performer for immersive theatre projects like SIGNA, they developed the necessary stamina and refinement to question borders of human relation. Their current practice includes installation, sculpture and sound.
︎ gurovan.com
︎ @nataly_gurova